Insomniac Magazine Interviews Eloh Kush on May 29, 2016
New Jersey lyricist, Eloh Kush, has been building an impressive resume of quality material on the solo tip and as a founding member of Hip Hop collective, Angelz Inc. With the impending June 24th release date of "AngelDus" (a collaborative project between Eloh and production mastermind Dus) fast approaching, the ultra-creative emcee took time out from his frantic schedule for an interview with Insomniac Magazine.
Peace Eloh! To begin, please share some background info for readers unfamiliar with your material or history in the industry.
Appreciate all tuning in and all those who have been on my journey with me from day one. I started off in the industry in the late grimey 90's/early 2000's with the same family crew that I've always been with – Fallen Angelz, a bunch of enlightened young rebel MCs who are glorious…Lord Sun, Ja the Gift, Jahbaton, L-Stizz, Yasin, Caribbean and many others. With the crew, we've put out our first LP entitled, "The First Descent," in the year 2000 & since then have gone on to put out six different LPs. Once we manifested and mastered the business side of this, we transformed our name into Angelz Inc to umbrella all of our different ventures besides music.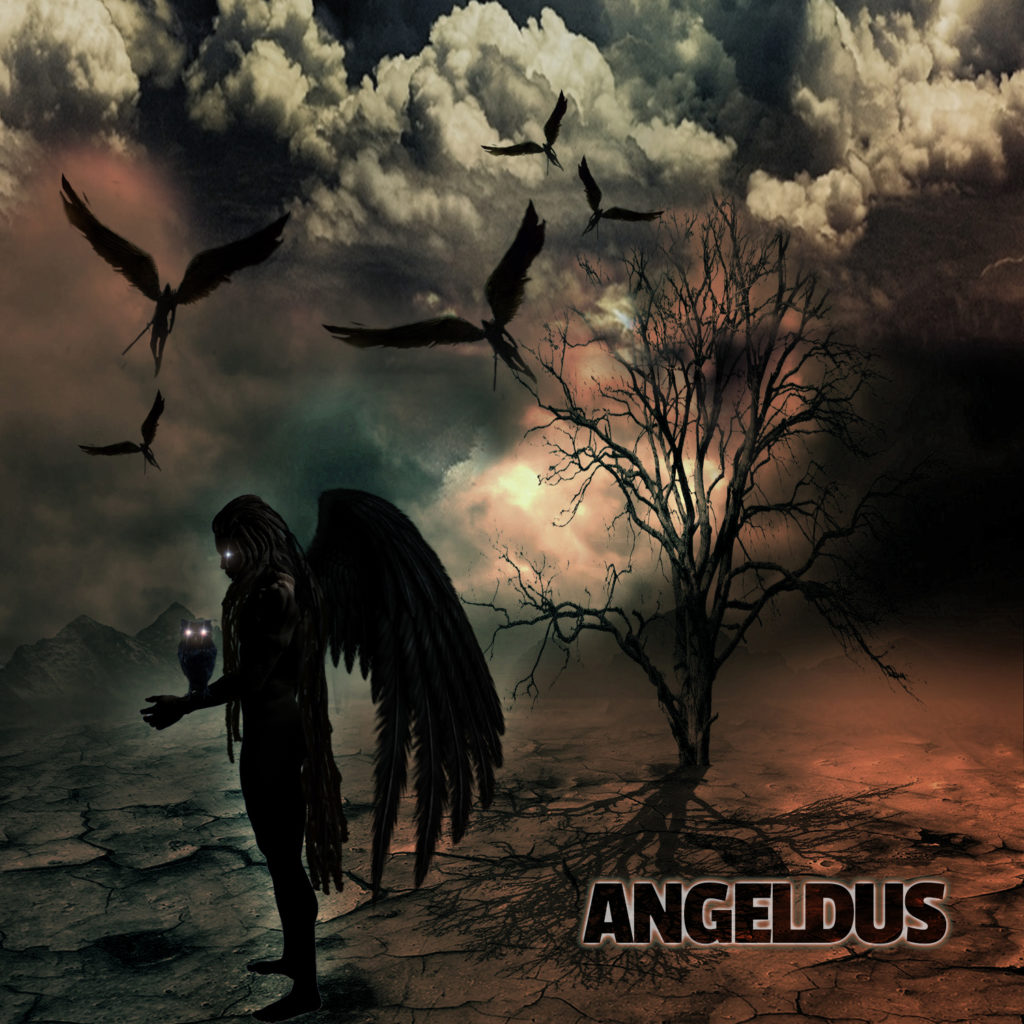 Dope! When did you initially link up with Dus for the forthcoming "AngelDus" album? How did the collaboration come about?
Dus and I initially started working on the project early 2014. We had just finished up working on Angelz Inc's latest project, "The Book Of Angelz," which Dus did production on a few tracks for…so after that project was done we started having conversations about certain types of creativity I wanted to express and planned on doing an EP together to use as a bridge between the next Angelz project and various other artistic projects he was working on. We started creating…putting it together, slowly but surely. Mostly our state of mind for creating was the total opposite of whatever was being played on the radio, production wise and lyrical content wise.
It's all about creating your own lane. Brilliant! So what type of tracks can we expect from the project? Also, what's your favorite cut on the album and why?…and in your opinion, what will make the project stand out from other album releases currently on the market?
The listener can expect to hear the songz of the seraphim. 'Very experimental…I was with this piece of art we constructed together. If I had to label it, it's with extreme pride yet caution because I dislike labeling creativity…I would say it's very abstract music in the song content. The lyrics are powerful but I was in a different place in my life when I made this album…A lot of tragedy was going on. A lot of transition. It's not a depressing or moody album…'just that I was really experiencing life in different chambers and Dus did an excellent job of giving me the correct platform to speak over to express myself.
I think my favorite track on the album will have to be "Carnal Desire" featuring Ja The Gift & Redd. I really like the way Dus constructed the jazz vibe that reminded and placed me in the Roaring Twenties state of mind. You know, the elegant dressing, attention to detail and how you carry yourself like we're in The Cotton Club in Harlem or some smokey jazz lounge. It also reminds me for some reason of a beautiful exotic woman…Maybe young Eartha Kitt, Josephine Baker, Sophia Loren, Debbie Allen or Pam Grier…then of course, young Chaka Khan. Just the way I would approach them…'just the conversation we would be having if we were in the same cypher.
The album will stand out from other projects because of my overall individualism and the celestial being that I am. My state of mind…the not fearing to really bare my truth on certain records. For instance the track "Trouble" speaks on the state of endurance and perseverance that I had to have when things were dark and how one wrong choice can make a situation even darker. If you're not careful you can get sucked up in the whirlwind!
So true! You're an extremely original, self-contained artist. But tell us, who were your major influences when first entering the industry? Did any specific artists inspire your sound or approach to writing lyrics and recording?
Great question! Let's see…My major influences upon entering the industry had to be the great Chuck D and Public Enemy. The song, "Show 'Em Whatcha Got," was like the first hip hop record I really listened to. My big cousin, Joe Kelly, played that for me. He's really responsible for me being interested in the hip hop culture. That one record changed my life but along the way you're influenced by so many great & different names. Tragedy Khadafi…X-Clan…Wise Intelligent…and that's just from a musical aspect of hip hop. I'm truly an old school jazz head. My favorite coming up was Archie Shepp and other greats. The science for me was to figure out how to become a legend…a master in my genre of music! Study the masters, be original, perseverance and constant creativity with quality material is the answer. Of course I'm always inspired by a variation of different artists. Anyone who tells you they're not inspired with whatever is going on around them musically isn't tapped in. I get inspired by the music I dislike just as much as I get inspired by the music I love. But in truth, I've been listening to a lot of heavy, heavy jazz lately because those different musicians' melodies playing on different sets with different musicians is the same as recording with a different artist. We are the modern-day jazz musicians, so for me I was definitely inspired by Max Roach and Archie Shepp's albums. The violent, revolutionary sound of Archie Shepp on saxophone…That was heavy on the mind state of me creating verses on "AngelDus."
Now that we've explored your influences, let's discuss touring. Name some of your favorite and least favorite moments. What made them so great or bad?
I love doing live shows. First of all, I love the experience. That's what is truly up, to be able to get on stage and create verbal alchemy. 'Being able to win over the crowd with your words at the podium of life. I think one of the best touring experiences for me is being able to see the effect of what I wrote in a room or in the park somewhere(resonate with an audience). It's a blessing to travel from state to state. It gives me a glance of my personal journey! I think one of the, I wouldn't want to say necessarily "bad" things, of being on tour would be the late night eating…or constant challenge of reinventing yourself on stage. But I don't think I have a bad tour story. It keeps you sharp…the whole process.
In your opinion, how has Hip Hop changed from its origins to now? What can be done to take it back to the essence?
To me, Hip Hop…it's changed dramatically. Well let me change that. Hip Hop hasn't changed because Hip Hop is the culture. But the part of Hip Hop being an MC has changed dramatically because people stay away from originality. The styles – people now all sound like duck, duck, goose. I don't know where anyone is from! Before you knew that this brother was from this area because of his style and his subject matter. And biting is a no no as far as taking it back to the essence. I mean the only thing constant in this world is change in the culture. It's the way of life, so as long as your roots and principles don't compromise, then Everything is Everything.
What are your future plans or endeavors? Do you have a 5 year plan?
Just becoming more of a media conglomerate in this business. Finally showcasing my media group, definitely producing & writing a couple books that I've yet to publish…the first one will be a book of poetry. Also, getting artists and different people together for the label will be exciting. One of the first projects to showcase will be the poet, Seshat Ali. She is featured on the "AngelDus" album. I'm producing and recording her album as we speak so I'm very excited to share that with the people. And my five-year plan is called LIVE NOW!!! As far as I know, what these last five years have taught me after the deaths of my father, Rhoda, Chinyelu, FonDue, and a few others – praise be all their names and legacy – man, I learned AIN'T NO TOMORROW! So do your best because as far as I know we don't get any second chances at this shit.
Any final words? Shoutouts?
Thank you for taking the time out to give me a platform to speak and come promote my project that's from Dus & myself. Get that "AngelDus" LP June 24th, but you can pre-order it now atwww.elohkush.com.
Peace to man, woman, and child & all the Light Bearers. Moor to come. Moor to do. Shoutout to my Angelz Inc Clan, John Robinson, El da Sensei, A.G. of D.I.T.C., 60 Second Assassin, Queen Stahhr, Water The Plants, Ray West Red Apples 45, Brothers Grimm and all who contributed to making this LP what it is. Peace!
– Interview by Kevin Keith